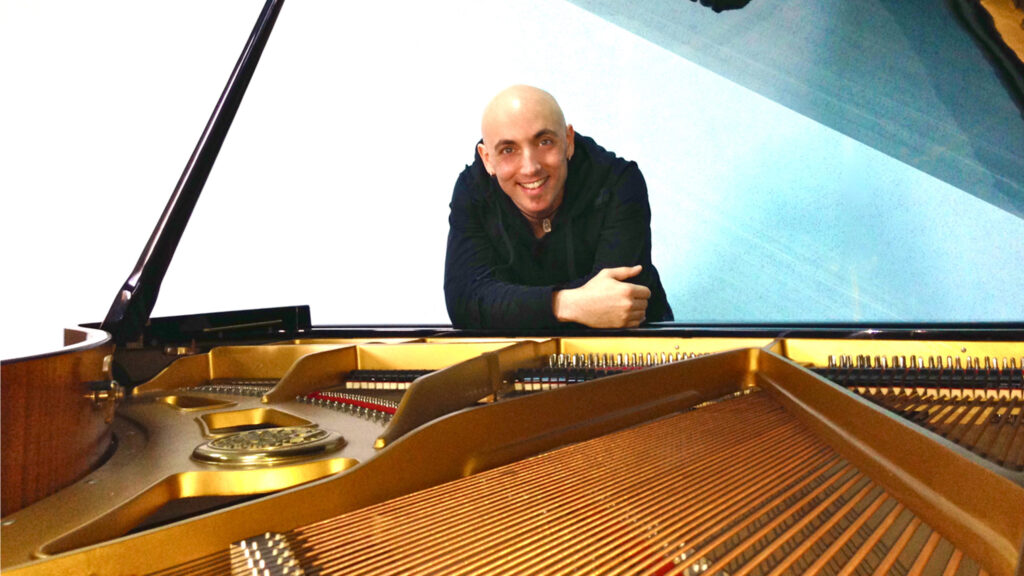 Salvo Russo, an eclectic Neapolitan musician and composer, earned a diploma in piano at the "S. Pietro
a Majella" Conservatory in Naples. 
He studied flamenco piano with David Peña Dorantes at the "Escuela Internacional de Música Clásica y Flamenco" in Utrera (Spain).
Salvo Russo is a body percussion teacher and instructor, who regularly holds training courses about body music and musical didactics, both in Italy and abroad.
He is the Body Percussion performer in the cast of CLAUDIO BAGLIONI "Dodici note – Tutti su!"
He is part of the faculty of teachers and performers of the Chicago Human Rhythm Project (USA) as a Body Percussion coach at the Chicago Rhythm World 29.5.
Body Percussion performer for the TV show "SOLITI IGNOTI" on Rai 1 conducted by Amadeus.
He has been a member of the All Stars U.S.A. Cast 2019 in Antalya (TURKEY), together with STOMP and many other artists from the Cirque du Soleil crew, under the artistic direction of Giulio Scatola.
He works for many Conservatories, Associations, Musical and Dramatic Academies and Schools, amongst which: Friends & Partners, VIVO Concerti, Chicago Human Rhythm Project (USA), COSA (China Orff Schulwerk Association), Shanghai Music Education Group (CHINA), Orff Music and Art World (TAIWAN), Nanny Owl Company and U-hu Researce Center St. Petersburg (RUSSIA), BoMed Bedenden Oyuna Istanbul (TURKEY), International Festival of Creative Musical Pedagogy Kiev (UKRAINE), Chigiana Academy (ITALY), Lucy Lovick Dance in London (UK), Glazbena udruga Opus Musical Academy of Zagabria (CROATIA), Italian Cultural Institute in Athens (GREECE), "G. Verdi" Conservatory in Turin (ITALY), IDA (International Dance Association) in Ravenna (ITALY), Alma Edizioni, a publishing house in Rome (ITALY) and more… 
He is part of the Clarinet and Body Percussion Project, created by the clarinetist Alessandro Carbonare, with whom he made his debut during the 2017 International Festival and Summer Academy of the Accademia Chigiana, in partnership with the University of Siena.
He has founded and directs Flamenco Tango Neapolis (FTN), a project born in 2010 which aims to link the sounds of the Neapolitan classic tradition with flamenco and Argentinian tango, through the music and the dance, creating an original fusion of different styles. FTN has attracted the interest of critics and large audiences, and has been performed in many important festivals and music events in Italy and abroad, some of which are: "The Concerts in the Park" at Casa del Jazz in Rome, Ankara Flamenko Festival, Narnia Festival, La Mama Spoleto Open, Muntagninjazz Festival, Festival Duni, Florence Dance Festival, Flamenco Tango Jazz, Folkest and many more… 
Salvo Russo has published two discographic works: Encanto and Viento. He also produced three theater shows: Encanto, Viento – Da Napoli a Siviglia… a Buenos Aires and Arrassusìa, all of which feature original songs and arrangements by him. 
The list of artists and musicians he's been working together with includes: Claudio Baglioni, Amadeus, Giuliano peparini, Khalid Freeman, Keith Middleton, Giulio Scatola, Emilio Cornejo, Cristiana Pegoraro, Alessandro Carbonare, Irma Cardano, Mvula Sungani, Orchestra Italiana del Cinema, Samuel Peron, Samanta Togni, Mariano Manzella, Ricardo Diaz, Carmen Gamero, Maite Olivares, Rosa Angeles Garcia Clavijo, Caterina Lucia Costa, Sergio Javier, Alejandro Villaescusa, Milagro Acustico, Fondazione William Walton, Ondanueve String Quartet.
List of publications: 
Viento

 with the Flamenco Tango Neapolis Project 

Encanto with the Flamenco Tango Neapolis Project
He's also working on new publications to be soon announced.